Engineering a New
Standard
for Packaging Machinery
The crown jewel of the MFT Series are the 2020 MFT-540 & MFT-730 Open Frame Vertical Form Fill Seal (VFFS) machine. These machines have among other features, a full 360-degree access and an innovative triple servo system. The new 2020 models include a single system backbone and remote access capabilities. The MFT-540 & MFT-730 have quickly evolved into best sellers in their categories.

These VFFS models are specialized in the packing of granular, liquid and viscous products. Works with a variety of packaging styles: pillow bag, gusset bag, block-bottom bag, vacuum bag, and valve applicators.

The MFT-540 and MFT-730 Open Frame was designed with ease-of-use in mind allowing for easy operating, maintenance and cleaning. You will not find a better designed and more versatile machine in the market.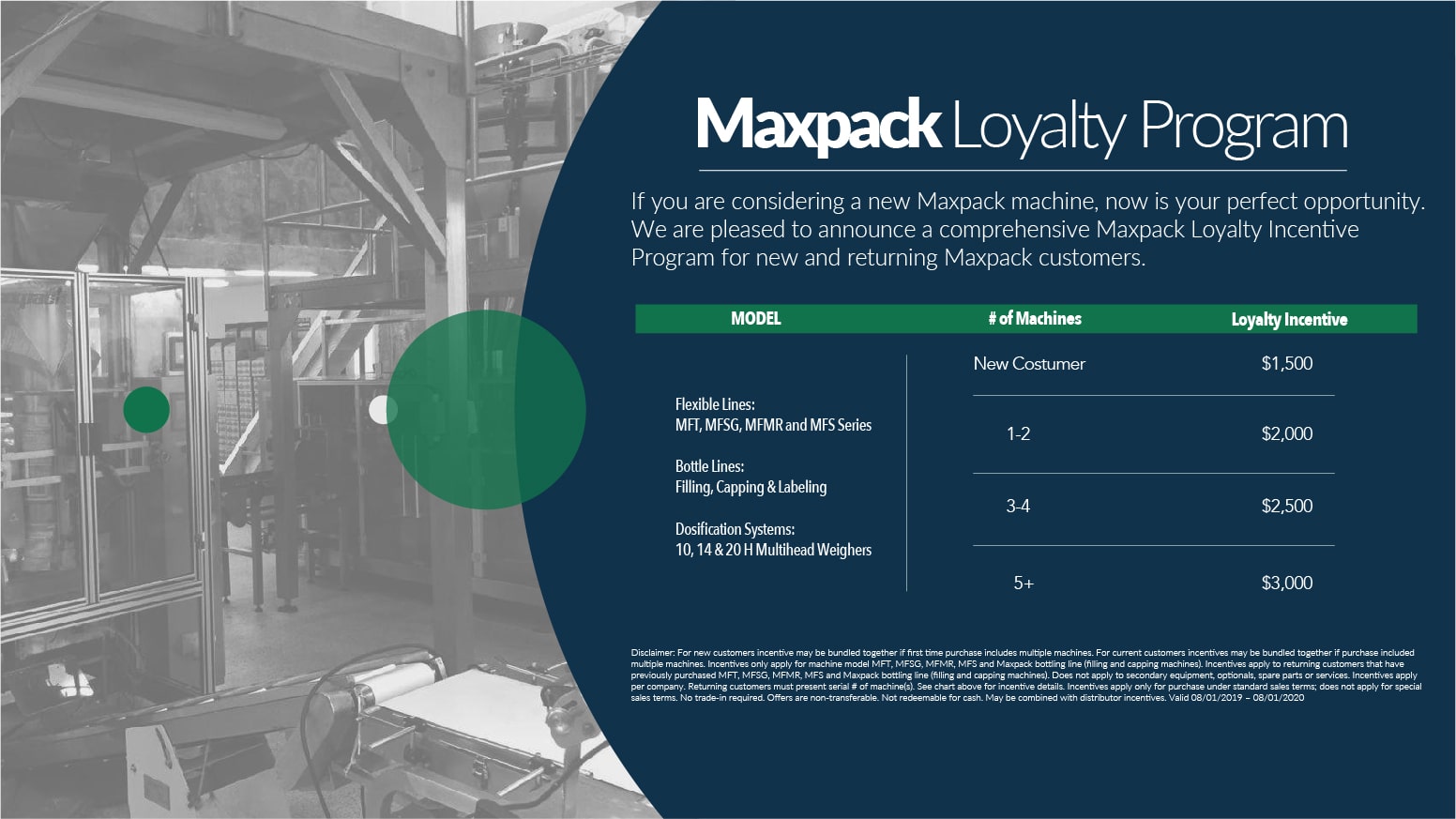 Maxpack Machinery is a technology driven packaging machinery manufacturer. We leverage modern technologies to design, manufacture and market next-generation packaging machinery. With global capabilities, and trusted by hundreds of clients, Maxpack is considered the option for market leading, growth stage companies and is among the fastest growing packaging machinery manufacturers in this highly dynamic segment. A Miami based company, Maxpack has operations in the United States, Latin America and Asia. Maxpack Machinery is a member of PMMI – The Association for Packaging and Processing of North America.
Maxpack Machinery designs, manufactures and markets next-generation Vertical Form-Fill & Seal VFFS Machines (MFT Series), Horizontal Fill & Seal HFS Machines (MFSG Series) for Pre-Made Doypack Bags, Horizontal Form, Fill & Seal HFFS Machines (MFS Series) for 3-4 side seal pouches, and an entry level line of Rotary Machines (MFMR Series) for Pre-Made Doypack Bags. The portfolio also includes the best selling Maxpack Bottling Line of In-Line Filling, Capping and Labeling Machines. Maxpack Machinery leverages on the expertise of Siemens, ABB, Festo, Schnider, SMC, Panasonic and other global brands to assure performance, reliability and connectivity.
Average Client Annual Revenue
Our sales team will contact you as soon as posible.